What is a total knee replacement?
Total knee replacement is a surgical procedure that replaces your knee joint's damaged cartilage and bone with smooth metal and high-grade plastic surfaces. Total knee replacement is one of the most successful treatments to restore knee function and stop pain after nonsurgical treatments have failed.
Should I undergo total knee replacement surgery?
Only you and your doctor can determine the correct course of treatment for your knee pain, and surgery should be the last step. But if severe knee pain continues to affect the activity and quality of your everyday life after trying nonsurgical treatments, knee replacement may be your best solution.

What is MicroPort Orthopedics' medial-pivot knee design?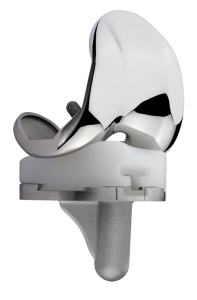 Unlike traditional knee implants which only swing back and forth, MicroPort Orthopedics' medial-pivot implants bend, rotate and twist throughout a complete range of motion. Our medial-pivot implants are designed to recreate the motion of a normal, healthy knee.
What differentiates the medial-pivot design from other knee implant designs?
The natural knee has a number of stabilizing structures, most of which are removed during total knee replacement. But MicroPort Orthopedics' medial-pivot knee more closely replicates the knee's natural anatomy, helping to eliminate the unnatural "sliding" feeling common with other knee implants.
How long does total knee replacement surgery last?
It usually takes about 2 hours, depending on the specific procedure.
How long will I be off of work?
It depends on the type of work that you do. If you have a sedentary job, you can likely return once you feel strong enough. If your job requires you to be on your feet for extended periods of time, though, you may be off as long as 6-8 weeks. Your doctor will also advise you of any restrictions to follow once you return to work.
When can I drive?
This varies by doctor, individual recovery time and the type of surgery performed. Usually, you'll be able to drive within 4-6 weeks. Your doctor will let you know when it's safe.
When can I take a shower?
You may shower after your surgery. Leave the dressing in place while showering, remove the dressing afterword, dry completely, clean thoroughly with peroxide and apply a clean dressing. Do not take a bath or get in a hot tub until your staples have been removed and your incision is completely healed.
Is Evolution® medial-pivot knee replacement surgery invasive?
Facing surgery can be daunting, but the Evolution® MP Knee System is designed to reduce recovery time through minimally invasive procedures. And surgeons are empowered to implant Evolution® MP products through quadriceps-sparing techniques that that cut less muscle, helping you get back on your feet faster.
What are the risks with knee replacement surgery?
While most knee surgeries are free of complications, risks include blood clots, excessive bleeding, urinary tract infections, damage to bones, nerves or blood vessels, and a weakened or stiff knee. Carefully following your doctor's care instructions can help you avoid or minimize these risks.
How long does a knee implant last?
Unfortunately, there is no easy answer to this question, other than "it depends." Knee implants may need to be replaced at some point in the future, and other factors such as weight, activity level, and occupation may increase the risk of failure. That said, the Evolution® MP Knee System has been shown to sustain less wear than the competition in a comparative study.