A FASTER RETURN TO LIVING YOUR LIFE1-11
Hip replacement surgery continues to push the boundary of how fast achieving full function can happen. While there are many elements to a rapid recovery, one of the key factors is the choice of surgical technique, or approach. Compared to traditional approaches, the minimally-invasive Direct Anterior Approach for total hip replacement has:

Stay
Shorter Length of stay in the hospital (1-7)

Home
More patients discharged home (1,3,5,7)

Faster
Faster Functional Recovery (2,4-6,8-11)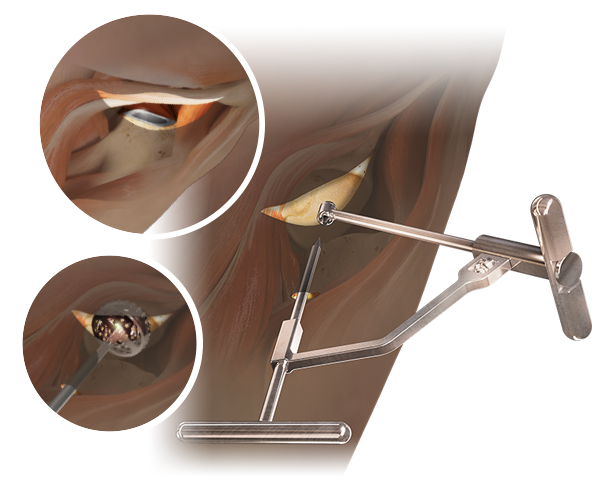 Improving on an already successful approach
The Anterior Path® Hip Approach is an extension of the Direct Anterior Approach. The novel approach utilizes a tube, or portal, to gain direct access to the hip socket, offering a surgeon direct visualization and preparation. The use of the portal allows for a smaller incision, and allows the surgeon to move the incision to the skin crease at the hip joint. This helps lessen many challenges related to both wound healing, and placing the implant into the femur.
What are the benefits?
Direct Anterior Approach
For patients considering hip replacement surgery, two of the biggest concerns are the ability to return to normal life and how long
the recovery process takes. The Direct Anterior Approach addresses both of these concerns in providing a faster functional recovery.2,4-6,8-11 Many aspects of the Direct Anterior Approach work to help deliver on this goal:
Spending less time in the hospital1-7
Less pain medications after surgery3,6,7
More likely to be sent home (versus a rehabilitation facility)1,3,5,7
Less time using assistive ambulatory devices (such as a cane or walker)3,4
Anterior Path® Approach

The Anterior Path® skin incision is made in the hip crease, providing potential benefits as compared
to a Direct Anterior incision:
Improved Wound Healing16
Fewer Wound Complications15
What surgeons are saying about Anterior Path®
"In medicine and surgery, there's always room for improvement - a continuum of care to come to the optimal result. Nothing will ever be perfect, but when we look at the continuum of care with the anterior approach, I think the Anterior Path is part of that next evolution."
- Dr. Paul Beaule, MD, FRCSC, Ottawa, Ontario, Canada
"All of the patients that I've had come back have been extremely satisfied with their result."
- Dr. Charles Lawrie, MD, St. Louis, MO
"I'm super excited about it. I think it's going to take off and people are going to do better with their hips because of that, and the patients are going to do better because we're doing better hips."
- Dr. Matthew Seidel, MD, Phoenix, AZ
"We're talking hours of hospital admission [rather than days] and we're talking rapid recovery. This is the term we use at our hospital to get patients up and walking as soon as possible and Anterior Path® definitely helps that, because there's less muscle damage. "
- Dr. Joseph Assini, MD, Denver, CO
PRECAUTIONS & DISCLAIMERS
Every patient is different, and individual results will vary. There are risks and recovery times associated with surgery. Consult your doctor to determine if joint replacement surgery is right for you.
Individual results and activity levels after surgery vary and depend on many factors including age, weight and prior activity level. There are risks and recovery times associated with surgery and there are certain individuals who should not undergo surgery. Please click here to read about risks associated with surgery. Only a physician can tell you if this product and associated procedure are right for you and your unique circumstances. Please consult with a physician for complete information regarding benefits, risks and possible outcomes.
These surgeons are paid consultants for MicroPort Orthopedics. The opinions expressed are theirs alone and do not necessarily reflect the opinions of MicroPort Orthopedics Inc.
References

Alecci V. Comparison of primary total hip replacements performed with a direct anterior versus the standard lateral approach:
perioperative finding. J Orthop Traumatol. 2011; 12(3):123-9.
Martin C. A comparison of hospital length of stay and short-term morbidity between the anterior and posterior approaches to total hip arthroplasty. J Arthroplasty. 2013; 28(5):849-54.
Zawadsky M. Early outcome comparison between the direct anterior approach and the mini-incision posterior approach for primary
total hip arthroplasty: 150 consecutive cases. J Arthroplasty. 2014; 29(6):1256-1260.
Christensen C. Comparison of patient function during the first six weeks after direct anterior or posterior total hip arthroplasty (THA): a randomized study. J Arthroplasty. 2015; 30(9):94-7.
Connolly KP, Kamath AF. Direct anterior total hip arthroplasty: comparative outcomes and contemporary results. World J Orthop.
2016; 7(2):94-101.
Goebel S. Reduced postoperative pain in total hip arthroplasty after minimal-invasive anterior approach. Int Orthop. 2012; 36(3):491-8.
Schweppe M. Does surgical approach in total hip arthroplasty affect rehabilitation, discharge disposition, and readmission rate? Surg
Technol Int. 2013; 23:219-27.
Mirza A. A mini-anterior approach to the hip for total joint replacement: optimizing results: improving hip joint replacement
outcomes. Bone Joint J. 2014; 96B(11): 32-5.
Barrett W. Prospective randomized study of direct anterior vs postero-lateral approach for total hip arthroplasty. J Arthroplasty.
2013; 28(9): 1634-8.
Rodriguez J. Does the direct anterior approach in THA offer faster rehabilitation and comparable safety to the posterior approach? Clin
Orthop Relat Res. 2014; 472(2): 455-63.
Nakata K. A clinical comparative study of the direct anterior with mini-posterior approach: two consecutive series. J Arthroplasty. 2009; 24(5):698-704.
Rathod P. Does fluoroscopy with anterior hip arthroplasty decrease acetabular cup variability compared with a nonguided posterior
approach. Clin Orthop Relat Res. 2014; 472(6):1877-85.
Sheth, D, Cafri, G, Inacio, MC, Paxton, EW, Namba, RS. Anterior and Anterolateral Approaches for THA Are Associated With Lower
Dislocation Risk Without Higher Revision Risk. Clin Orthop Relat Res. 2015; 473:3401–3408.
Tsukada S, Wakui M. Lower Dislocation Rate Following Total Hip Arthroplasty via Direct Anterior Approach than via Posterior Approach:
Five-Year-Average Follow-Up Results. Open Orthop J. 2015; 9:157-162.
Leunig et al. Skin crease 'bikini' incision for the direct anterior approach in total hip arthroplasty. The Bone & Joint Journal Vol. 100-B,
No. 7. 28 Jun 20182
Statistically significant for obese patients. Manrique J, Paskey T, Tarabichi M, Restrepo C, Foltz C, Hozack WJ. Total Hip Arthroplasty
Through the Direct Anterior Approach Using a Bikini Incision Can Be Safely Performed in Obese Patients. J Arthroplasty. 2019
Aug;34(8):1723-1730